Signing and Awarding Ceremony of University-Enterprise Cooperative Teaching Base Held between FTBU and Hyatt Hotel in Cangshan, Fuzhou
In order to further strengthen the cooperation between our university and the enterprise and improve the training quality of applied talents, on the morning of August 18th, Lin Liqun, executive vice president of FTBU, led a team to the Hyatt Hotel in Cangshan, Fuzhou to hold the signing and awarding ceremony of the university-enterprise joint construction practice base. Li Yimei—general manager of the hotel, Huang Liang—general supervisor and its middle-level leaders, Yu Guowei—director of the Party and Political Affairs Office of FTBU, Yu Shaoqian and Wang Liuyun—dean and vice dean of School of Management of FTBU, and its teacher representatives attended the signing and awarding ceremony.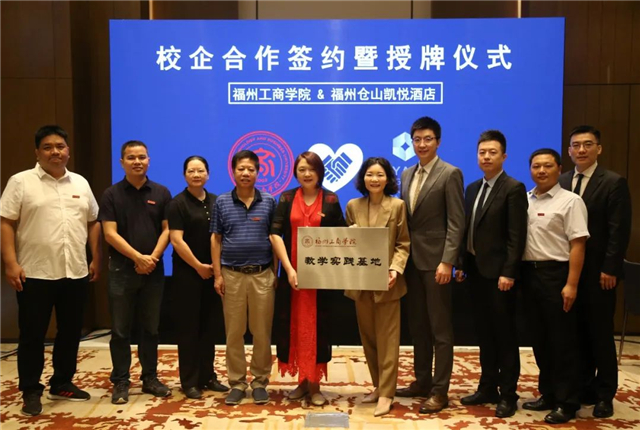 At the ceremony, Lin Liqun introduced our university orientation, professional advantages, application-oriented talent training and other basic school-running conditions of FTBU, expressed gratitude for the support of Hyatt Hotel in Cangshan, Fuzhou for our university-enterprise cooperation, and said that signing a university-enterprise strategic cooperation agreement with the hotel would be an important measure for our university to further deepen the integration of industry and education and university-enterprise cooperation. She hoped that the cooperation between the two sides would achieve substantial results, and we would look forward to the cooperation in teacher training, and carry out comprehensive cooperation in personnel training program formulation, student internship, employment, hotel staff training, and implement the cooperation projects.
Li Yimei introduced the development history, main business, corporate culture and talent demand of the hotel, and hoped that both the university and enterprise could conduct in-depth cooperation in the training of hotel management talents and work together to cultivate high-quality skilled talents that meet the requirements of the new era.
In the warm atmosphere, the two parties held the signing and awarding ceremony of "University-enterprise Joint Construction Teaching Practice Base".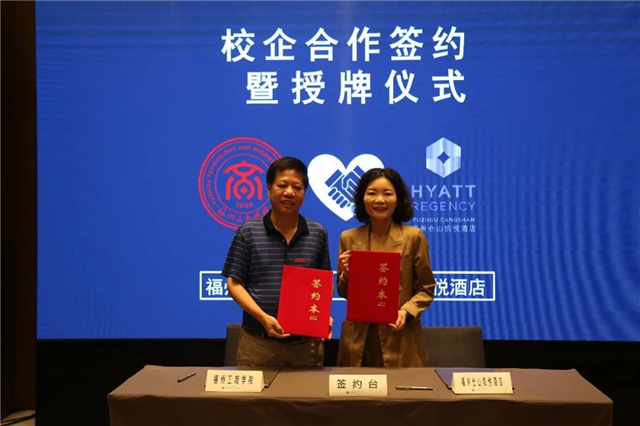 After the ceremony, Lin Liqun and her party visited the hotel
It is reported that Hyatt Hotel Group is a world famous hotel group and a top hotel brand. The hotels under the group have a series of hotel brands such as Park Hyatt, Andaz, Grand Hyatt and Hyatt Regency. We believe that the management of its international brand hotels will bring a better, higher and stronger development concept to the major Tourism Management of our university.